In occasione dell'apertura della mostra Out of this World alla British Library, il Guardian ha dedicato uno speciale alla fantascienza, chiedendo a un buon numero di maestri giovani o meno giovani ma ancora in attività di indicare la loro opera di genere preferita. Il dossier di oggi è stato anticipato da un intervento di Iain M. Banks, che prende la scia di Ursula K. LeGuin (che la settimana scorsa aveva recensito per le pagine del quotidiano britannico l'ultimo lavoro di China Miéville, Embassytown) per imbastire una difesa e una celebrazione della fantascienza.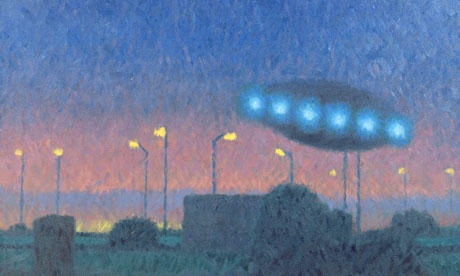 L'articolo di Banks si focalizza sulla peculiarità della SF, suffragando la riflessione, molto cara da queste parti, che il nostro sia un genere predisposto a innesti esterni e ibridazioni, ma provvisto di una solida storia alle spalle che rende particolarmente rischiosa ogni velleità di imitazione.
The point is that science fiction is a dialogue, a process. All writing is, in a sense; a writer will read something – perhaps something quite famous, even a classic – and think "But what if it had been done this way instead . . . ?" And, standing on the shoulders of that particular giant, write something initially similar but developmentally different, so that the field evolves and further twists and turns are added to how stories are told as well as to the expectations and the knowledge of pre-existing literary patterns readers bring to those stories. Science fiction has its own history, its own legacy of what's been done, what's been superseded, what's so much part of the furniture it's practically part of the fabric now, what's become no more than a joke . . . and so on. It's just plain foolish, as well as comically arrogant, to ignore all this, to fail to do the most basic research. In a literature so concerned with social as well as technical innovation, with the effects of change – incremental as well as abrupt – on individual humans and humanity as whole, this is a grievous, fundamentally hubristic mistake to commit.
[Immagine di Michael Buhler: Vision of the future... detail from UFO over the City, 1980 (olio su tela).]
Leave a Reply